Let's Hear from the Sales Team
Frequently Asked Questions (FAQs)
Our clients, especially those with projects where multiple components are used in an assembly, ask us thoughtful, probing, and challenging questions every day. Often, these questions are very particular to a custom product we manufacture (e.g., "How will hot runners affect my plastic molding?"). Other times, the questions apply to almost any customer! Here is a sampling of some of those frequently asked questions that apply to most projects.
Q: Why should I choose RSP?
A: This is a great question. Finding the right contract manufacturer is critical, and it's important that the client and RSP are a good match for each other. Not every project is a good fit for RSP. We start each project by evaluating the details and requirements to make sure we can meet your manufacturing needs.
So, what are some reasons RSP might be the best choice? With over 55 years of experience in manufacturing, we have worked on thousands of different projects with clients in over 40 countries worldwide. While we have big goals and ambitions and count Fortune 500 companies among our customers, we also remember what it's like to be the "little guy," and we value every client. RSP is truly a manufacturing partner.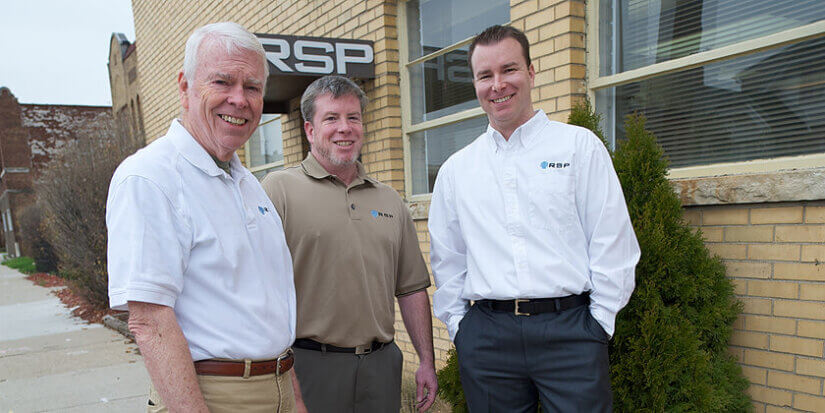 Q: My last supplier ______________________ [fill in the blank with a variety of complaints] How do I know RSP won't do the same thing?
A: It's important to let us know about your prior experiences so history doesn't repeat itself. However, most of the fill-in-blank responses we hear are related to long lead times, disappearing factories, missing tooling, poor quality, or communication issues. Our goal is to be completely transparent with our clients. This starts with giving you the time you deserve in our initial calls and emails to learn about your needs and requirements. Once we quote, we typically drill down to every detail. Sometimes a client will ask us why we quoted a screw that cost less than $.01/u, and we answer, "So you know what it costs!" At high volume, every fraction of a cent counts.
As the project moves on into prototyping or production, our team-based approach gives you access to the resources you need at all stages.
How do you know RSP will provide great service and not end up like your previous supplier? Call us so we can address your concerns. With our over 50 years of experience and a growing base of customers, you can trust us to treat you right!
Q: How do I know the finished product will meet our requirements every time we order?
A: RSP works with the client up front on every project to learn about how a product is used, functions, and what is required. As we work on the design, engineering, and quoting, we continue to focus on meeting the client's objectives and design requirements. During this process, we develop standard operating procedures for the assembly and manufacturing as well as the testing and finished product inspection requirements. We share this document with the client so that everyone has a clear understanding of what is being done by the assembly and quality teams at our facility. The first article samples are fully tested and inspected. Once these first articles are approved, the standard operating procedures are finalized and used on each future production batch.
This process enables our team to lock in the process and inspection to provide consistent, quality product.
Q: Once my project starts, who will I be working with?
A: Most of us have experienced working with a "slick" salesperson who promised the world and then, after you committed to a purchase, passed you off to a poorly performing implementation team, never to hear from the salesperson again. RSP's team-based approach is the solution to this issue. While the sales team might introduce you to engineering or a project manager, the sales team always stays in the-loop to ensure the project progresses smoothly. We look at it as a long-term investment in our clients, and we know that we only succeed when your project succeeds!