What Does Medical Manufacturing Mean
The medical industry includes orthopedics, surgical instruments, diagnostic apparatus, dental technology and much more. RSP has been working in this industry for over 50 years and understands the special needs and requirements.
The nature of the medical market and the products that are manufactured places unique demands on suppliers to ensure the highest quality. Often, particular ISO certifications are required of the manufacturer, and some devices need FDA registration as well. RSP is ISO 13485 certified and can produce FDA approved PPE equipment.
Cost of Manufacturing Medical Devices
Manufactured medical products range from producing a simple device like an orthotic shoe insert to full-turnkey diagnostic devices that monitor health. The cost of manufacturing medical components is often higher than non-medical components because of the additional requirements, certifications and services, and the liabilities incurred. Contact us today so we can get a better understanding of your project, goals and requirements. With years of developing these medical-grade products, RSP wants to be your premier medical device manufacturing partner. When it comes to a product that can mean life or death, it is important to have the right device contract manufacturer on your side.
What Materials Do We Offer?
Working with RSP as your medical device contract manufacturer means you'll have a partner that is experienced working with the following materials:
Medical grade plastic
Medical grade silicone
Medical device packaging
Rubber
Foams
Glass
Metal (we also do metal fabrication)
Electronics
Although these are our main medical grade materials, we can utilize other machinery and processes to help you get the product you need. Review our capabilities for more options or contact our team to discuss a customized solution.
What Is Plastic Medical Device Manufacturing?
For years now, medical device manufacturers and the wider healthcare industry have been transformed by a growing demand for plastic. Plastic's unmatched dynamic capabilities are put to use across the healthcare industry, from microbiology and labware that use microplates and PCR tubes to housings for sterilizable systems.
The widespread use of plastic in the healthcare industry has improved the patient care experience, allowing healthcare facilities to help more people and save more lives. The medical device industry plays an integral role in innovating new products that can aid in new procedures and in providing safer and more efficient medical devices for patient health. For example, an average medical procedure requires multiple medical devices such as syringes, bed coverings, endoscopic instruments, thermometers, all of which can be more efficiently made of plastic, and some of which could not be made without it.
Plastic medical device manufacturers like RSP work closely with the medical industry to make low-cost products that save lives. As an FDA Certified Manufacturer, RSP is able to fulfill orders to manufacture FDA regulated devices used throughout the medical field. Our plastic molding and silicone molding facilities are also ISO 13485 certified for medical molding.
Plastic Medical Products RSP Manufactures
RSP's experience allows us to be a premier partner to manufacture small-, medium- and large-volume medical products for OEMs. Our team has the experience you need to design, prototype and manufacture high-quality medical products. We can even contribute to the medical manufacturing process by simply supplying components, subassemblies or full turnkey assemblies. We work with plastics, silicones, rubbers, foams, glass, metal fabrication and electronics used in medical devices.
Plastic Medical Product Examples
Components for MRI machines
Blood circulation stimulators
Light therapy devices
Electronic motivational device assemblies
Foot sensor platforms for machine exoskeletons
Ventilator masks
Swabs and packaging
Compression socks
Sample kits for patients
Need to know if we can manufacture a specific piece of medical equipment? Contact us to find out more about our medical plastic manufacturing capabilities!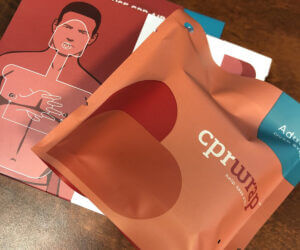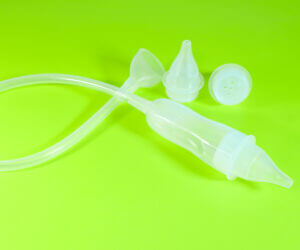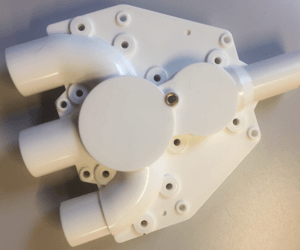 Medical Grade Silicone Component Applications
If you need medical grade silicone molding for your device or project, make RSP your supplier. Our facility is ISO13485 for medical molding and we also are FDA certified. Our machines range from 250 to 400 tons, and we have the capacity to produce small and large quantities. In the past, we have provided many user-interface keypads for medical equipment used in doctor's offices and hospitals. We also produce simple gaskets and seals.
Product Examples:
Finger toothbrush
Respirator mask
Children's nasal aspirator
User interfaces / keypads
Gaskets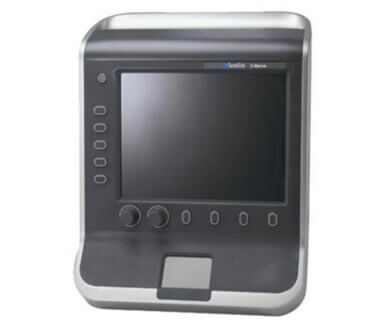 How We Package Your Medical Devices
Along with our FDA certification, we are excited to announce another machine has been added to our inventory. Our new pouch-sealing machine will be used to package high-quality medical products. This new machine helps manufacture medical-grade plastic supplies as it heat seals pouches to ensure items inside cannot be contaminated or lost. It not only keeps everything together but also seals quickly and consistently to 100% prevent the transfer of potentially dangerous pathogens to the items inside.
Learn more by heading over to our Medical Packaging blog for more in depth details or visit our contract product packaging services page.
How RSP Ensures Safety & Quality in Medical Plastic Manufacturing
RSP has instituted standard quality control measures to ensure all plastic molding is done at the highest possible quality standard. These steps, at a minimum, include the following.
Incoming Material Inspection & Verification
It is critical that the correct material is received, verified and utilized in the molding process.
Machine Setups
Detailed records for operating and machine parameters are maintained after setup to ensure quality and consistency from batch to batch and throughout the molding run.
In-Process Controls: Sink Marks, Short Shots & Knit Lines
RSP operators are trained to perform visual inspection at the molding machine to catch issues in the process. Several primary areas of concern for inspection include:
Sink Marks: The most common in-process flaw is sink marks. Sink marks are essentially low areas (or dimples) in the outer skin that occur during molding while the material is still soft and cause a sink to occur as the material cools. These can be caused by changes in the temperature, material and other variables.
Gas and Burn Marks: These marks occur when the molding temperature is too high, parts remain in the tool too long or air captured in the tool cannot release.
Short Shots and Knit Lines: Short shots occur when not enough plastic is pushed into the tool. Knit lines, visible markings or lines on the plastic surface, occur when two flows of plastic within the tool merge at slightly different temperatures.
Final Inspection & QC
Every medical molding product is different and has unique requirements. RSP has an optical comparative measurement machine to ensure dimensional requirements. Our team also utilizes stress testing, pressure testing, spectrophotometers (color) and other control measures as needed to ensure quality.
How to Find the Right Medical Device Manufacturer
Finding the right medical device contract manufacturer is critical to not only the quality but also the success of your product. It's important that communication and requirements are clearly understood and that the client and the manufacturer are both comfortable with the relationship. RSP offers you the assurances and has the certifications you need to make sure that the materials, processing, packaging and testing are all done correctly for safety and optimal performance. Contact RSP today to have us join your team as a contract manufacturing partner of your medical product needs.
Request a Quote
If you are like any of our customers, you think about your product 24/7. You dream of how it will change the market or maybe you're creating a brand new market. But when it comes to executing the product, you've realized you need some help. And that's where we come in.
Fill out the information below so we can get a good understanding of what you may need from us. We will respond as quickly as possible to your request, however, please allow at least 24 business hours.
Looking for immediate assistance? Call our sales professionals directly based on the timezone that works best for you. English speakers are available at all locations.
---
USA: +1-866-329-1804 - UTC-6: Central Standard Time
China: +86-0755-8366-3414 - UTC +8: China Standard Time
---