Plastic injection molding services include plastic engineering, design review, mold flow analysis, tooling design and fabrication, and molding of parts. RSP offers clients the highest level of quality and professionalism regardless of quantity. Our team is available to answer questions and keep you informed during the process at every step. Once we move into the tooling phase, you will receive weekly updates with notes and images so you can see firsthand how your project is developing.
Here is a great chart to help you plan what to expect depending what type of injection molding project you are looking to complete.
| Field | Prototyping | Short Run | Contract Manufacturing |
| --- | --- | --- | --- |
| Type of Service | CNC or 3D Printing | Low volume tooling with "soft" steel | High-quality hardened steel tooling |
| Avg. Project Size | 1-500 | 25-5000 | 25 - no limit |
| Lead Times | 1-14 days | 14-30 days | 20-45 days |
| Shipping | 1-3 days | 1-7 days | 1-40 days |
| Tolerances | .003 - .010" varies | GBT 14486-2008 | GBT 14486-2008 |
| Material Options | Limited: ABS, PC, Nylon, TPU... | No limit | No limit |
Why Pick RSP as a Contract Manufacturing Partner?
RSP offers high-quality custom plastic injection molding to bring your vision to life. Whether you need to create a fully functional prototype or require large volume production, we can make it happen.
Integrating more than 50 years of manufacturing knowledge with current best practices and technology, we offer a variety of injection molding services and value-added processes to meet all of your needs, from single components to full custom turnkey manufacturing.
Environmental & Biodegradable Material Options
We take pride in our socially responsible and environmentally friendly facilities in the US and overseas. Our state-of-the-art plastic injection molding and assembly facility in China provides affordable tooling and molding while adhering to the United States' manufacturing practices and quality standards. At RSP, we pride ourselves in doing our part while practicing sustainable manufacturing and utilizing eco-friendlier manufacturing materials.
Ocean Plastic
RSP is part of a growing group of manufacturers that have officially joined Oceanworks® and make products from ocean plastic. We supply and manufacture with ocean plastic for several companies that produce consumer products and reusable packaging solutions. These companies are proud to be part of the solution to create a more sustainable environment while meeting an ever-increasing demand for responsibly made products. Contact us today to see whether ocean plastic is a good fit for your next product.
Biocomposite
RSP is using eco-friendlier plastics to reduce environmental impact in the molding industry. RSP biocomposite plastics include hemp, rice, flax or cotton fibers added to petroleum-based plastic. This reduces the amount of plastic that is used, which in turn reduces pollution.
Hemp is a leading-choice fiber, as some of the largest car manufacturers are integrating it into their production. Beyond reduced environmental impact, there is good reason for choosing natural fibers: performance. Hemp-infused plastic, for example, can be up to 5 times stiffer and 2.5 times stronger than polypropylene (PP).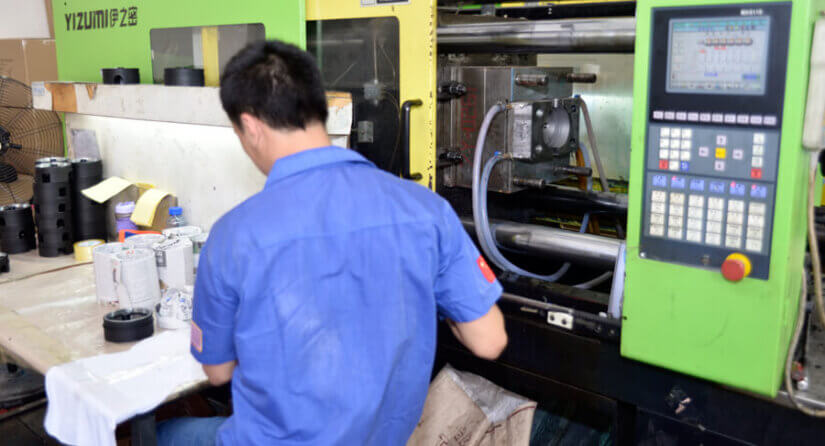 Reduced Product Cost & Improved Lead Times
RSP has helped thousands of customers reduce product costs while offering them best-in-industry lead times. We have invested in automation and robotics to help drive down costs to save our customers money and improve quality. As a company, we maintain sufficient facilities and equipment that allow us to grow and manage capacity to keep consistent short lead times and still have the flexibility to respond to urgent requests.
Better Products
RSP applies the same high standards and quality to every plastic injection molding project we undertake. It starts with our senior engineering team that together have over 100 years of plastic molding experience. It continues with our investments in new facilities and equipment. Our team is dedicated to quality and has achieved ISO13485 certifications for medical-grade molding. We are also FDA registered for manufacturing medical devices. Even if your project is not medical in nature, you can rest assured the controls and processes are in place to ensure success and quality. Internally, we use GBT 14486-2008 molding tolerances and also work with clients on critical measurements.

Types of Available Plastic Injection Materials
RSP can provide stock mold or custom plastic injection services in 1000's of materials including some of the most popular materials:
Nylon (PA66 + Glass Fill)
Polyamide (PA12)
Polycaprolactam (PA6 + Glass Fill)
Polyoxymethylene (POM)
Polystyrene (PS)
Polystyrene - High Impact (HIPS)
Acrylonitrile Butadiene Styrene (ABS)
Polycarbonate (PC + Glass Fill)
Polyether Ether Ketone (PEEK)
Polyetherimide (Ultem + Glass Fill)
Thermoplastic Polyurethane (TPU)
Thermoplastic Rubber (TPR)
Polyethylene (PE)
Polypropylene (PP)
Polyoxymethylene (POM)
Recycled Ocean Materials: including PET, Nylon, PC, and more...
Biocomposite Materials: including Hemp, Rice, Flax, Cotton and More...
Plastic Injection Capabilities
Here are a few capabilities we proudly specialize in:
Sonic welding & gluing
CNC surface grinding
Naturally balanced runners
Face-mounted inserts
Quick mold change systems
Thermoplastic engineering materials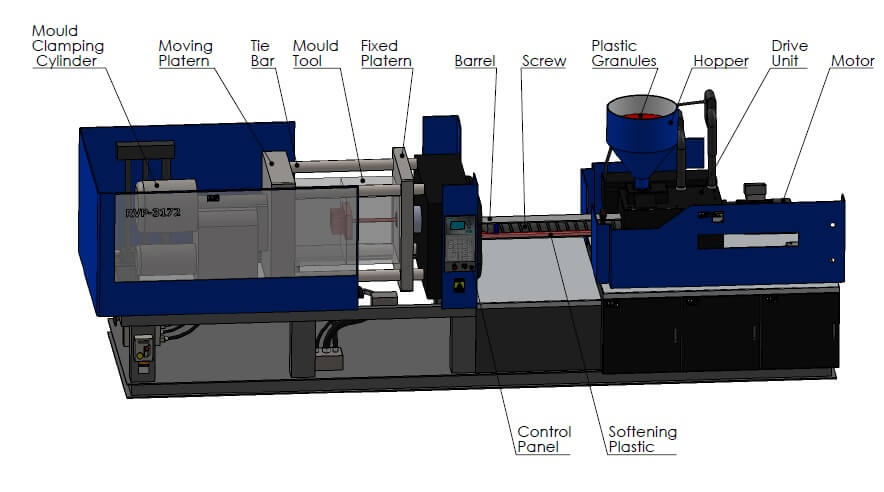 Industries We've Worked In
Our cross-functional experience allows us to assist all customers in meeting their plastic manufacturing objectives. We have experience with the following industries:
Telecommunications
Consumer
Industrial
Lighting
Housewares
Medical
Agricultural
Automotive
How Much Are Plastic Injection Services?
RSP offers plastic injection molding services that work within a range of budgets. Many of our simple small single-cavity plastic injection molds cost between $1,000 and $6,000. Our average mold costs are $7,000-$9,000. Some very complex large tools run as much as $100,000 or more.
Plastic injection services can vary in pricing depending on the complexity of your project and its tooling requirements. We try to include small engineering and design costs in the price of the tooling or even provide them at no charge. Smaller projects can cost less than $2,500 to get from design to engineering while larger projects with more demanding requirements can run up to $100,000.
In order to provide a low-cost product with minimal setup and maximum quality and precision, we practice a seamless process to get the job done right the first time. The first step is to request a quote and discuss the product with an RSP sales rep.
Once both parties agree that RSP is the best manufacturing partner for the project, an official order can be placed. This launches the design for manufacturing review, where we consider all the best practices of molding and design to optimize the model. After design suggestions are discussed, the engineering team at RSP can create a 3D model of the tooling. This 3D model will need to be approved by the customer before we proceed further, ensuring quality standards are being met every step of the way. During the tooling phase order, we provide weekly updates on tooling status, including photos. Get started today with the Get a Quote Button below.
More Injection Molding Reading Material
Request a Quote
If you are like many of our customers, you think about your product 24/7. You dream of how it will change the market, or maybe you're creating a brand-new market. But when it comes to executing the product, you've realized you need some help. That's where we come in.
Interested in learning more about our plastic, ocean plastic and bioplastic injection molding process and what we can do to help manufacture your product? Start by filling out the information below so we can get a good understanding of what you may need from us. We will respond as quickly as possible to your request; however, please allow at least 24 business hours.
Need immediate assistance? Call our sales professionals directly based on the time zone that works best for you. English speakers are available at all locations.
---
USA: +1-866-329-1804 - UTC-6: Central Standard Time
China: +86-0755-8366-3414 - UTC +8: China Standard Time
---