Silicone Keypad Manufacturer
RSP, headquartered in Milwaukee, WI, manufacturers rubber keypads also known as silicone keypads, which are ideal for a range of products. The average person comes in contact with silicone keypads, also known as elastomeric keypads, almost every single day. Because of their low cost, flexibility of design and reliability, silicone keypads are used in a variety of industries, including medical, marine, and military, in addition to consumer applications, such as TV remotes and electronic games.
Additional silicone rubber keypad features include:
Resistance to both high and low temperatures (-55° C to 250° C)
Minimal noise generation due to soft and elastic contact structure
Minimal abrasion and high resistance to sulfur dioxide and oxidation even in heavy humidity
Designed for snap ratio and tactile feedback
Translucent color which is excellent for backlighting
Multi-color designs easily accommodated
Water and contamination resistant
Coating options for increased durability chemical and environmental resistant
Video: Laser Etching Process
Designing a Silicone Keypad with RSP
As mentioned above, there are many favorable qualities to use silicone keypads. As a manufacturer of silicone, which can be utilized in so many applications, RSP offers several levels of involvement when it comes to your silicone keypad project. Our team also uses quality assurance and quality control measures throughout the process to ensure each keypad is completed to your standards.
Medical Devices & Plastic Molding - ISO 13485
A lot of the clients we work with create products for the medical industry. RSP has a quality management system in place to provide services that meet FDA and other regulatory requirements. The quality system, known as ISO 13485, is recognized internationally and ensures that every step of manufacturing is documented and performed correctly. A full service global contract manufacturer, specializing in plastic molding, we are ISO 13485 certified and take the regulatory requirements very seriously.
No matter where you are in your project, RSP can help:
Haven't started designing the keypad?
Supply RSP with dimensions and desired snap ratio for a full design
Not sure what snap ratio is or what ratio you are looking for? We can walk you through it.
Already have the keypad designed?
RSP can review the design and offer suggestions/tweaks for improving the  function, fit and feel.
Need to customize a keypad for an already designed product?
Supply us with the assembly model of the product and we will fully customize a keypad based on your requirements.
Have a keypad you love from another product of yours?
Send us the reference keypad for re-engineering and we'll match the function and feel.

Creating Silicone Rubber Keypads
Much like plastic molding, silicone keypads can be very adaptable and multifunctional. In terms of adaptability, raw silicone can be made with a specific hardness, color and level of transparency. Each of these characteristics are customized per a customer's needs.
Once the raw material is created with the desired hardness, color and transparency, it will go through one of two machine types -- injection molding or compression molding machines. Due to cost constraints, most keypads and gaskets are compression molded.
To give you a visual, think of a compression mold as a giant waffle maker. There is a top half and a bottom half which compress a carefully cut and weighed portion of silicone material. Once the mold is preheated to the correct temperature, the mold is then closed under extreme pressure (150 - 250 tons).
During the molding and compression time when the tool is closed, the silicone fills up the entire mold cavity and is then vulcanized. Vulcanizing is the hardening process; molecules are transformed into the desired shape. Once the tool is opened, the machine operator uses compressed air to remove the components from the tooling.
Video: Think of this machine as a giant waffle maker to compress the silicone rubber.
Designing for Snap Ratio & Tactile Feedback
As mentioned above, being able to design silicone keypads for specific snap ratio and tactile feedback is one of the many favorable qualities of silicone. Much like membrane switches, it is important for a user/operator to recognize when he or she has fully pressed a key. This action is done when the operator depresses the key which collapses the webbing and connects the contact area on the bottom of the key to a circuit or mechanical type key below, then once pressure is removed the webbing returns to its neutral position. The differential between the pressure combined with the movement creates tactile feedback and can be designed optimally by design engineers using the proper snap ratio.
To better understand snap ratio, it is important to know the ratio is determined by actuation force (the force required to collapse the membrane/web of a rubber switch, also referenced as F1 in the formula below) and contact resistance (F2).
F1 - F2
-----------
F1
The recommended snap ratio to maintain is 40% - 60%; if dropped below 40%, the keys will lose tactile feel but have an increased life. Loss of tactile feel means the user will not receive a 'click' feedback during actuation. Since most applications require a positive tactile feel and a long life, it is best to design for an actuation force of 125 - 150 grams and an accompanying snap ratio of 40% - 60%.
Since silicone is an adaptable material, the membrane shape and size can be designed to achieve a variety of actuation forces and tactile responses. Additional customization for your silicone rubber keypad can be achieved by changing the contact stroke, actuation force, key shape and material hardness. For instance, to create taller or wider keys, the keypad must to be designed with a higher actuation force.
Making a Contact
In order to make a proper connection with the printed circuit board (PCB) or printed circuit, it is necessary to use a conductive carbon contact. The contact can be printed carbon or a pre-formed carbon piece known as a "pill". Printed carbon contacts are sufficient for most constructions. A conductive carbon contact pill can also be used but adds some cost. Carbon pills are known for long life (>10 million actuations) and low resistance (<100W). Additionally, the pills come in a variety of shapes but are usually circular with diameters ranging from 1.5 - 10 mm and thickness from 0.4 0.6 mm.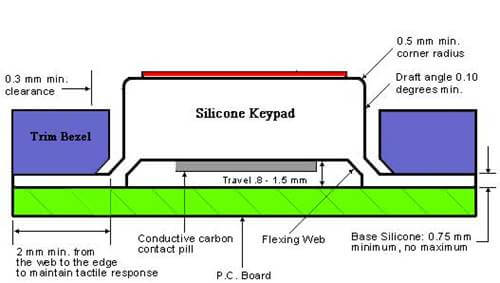 Epoxy Coating
RSP's engineering team has developed a proprietary method for applying an epoxy coating to silicone keypads that improve quality, reduces scrap, and lowers the cost! Epoxy coating is used to provide a glossy finish while also protecting printed legends and markings on the keys. The previous methods used for epoxy coatings involved dip coating or using pill droppers to deposit the epoxy on each key. This resulted in a high rate of process failure due to the unpredictable nature of the epoxy. Our unique new epoxy blend, combined with our proprietary method, has been proven to reduce the scrap rate and improve the aesthetic finish with consistent, precise application.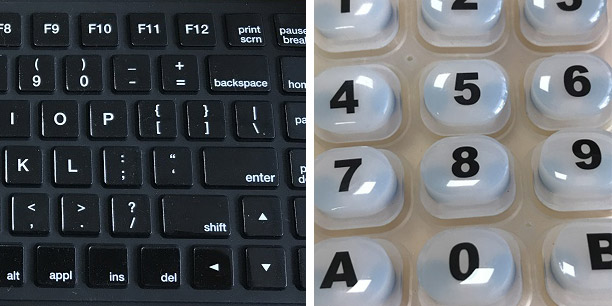 Video: We have many coating options to increase durability and to make the product resistant to chemicals and environmental factors