Laser Cutting & Engraving Overview
RSP's ultra-fast cutting and etching lasers allow for quick high-volume manufacturing with reduced set-up times and minimal non-recurring engineering charges. Our engravers provide high quality durable precision legends and windows on silicone rubber key pads and control panels. RSP's etching lasers are perfect for most plastics and silicone. Short lead times and affordable hourly rates mean prototyping and design updates can occur rapidly while providing cost-efficient and timely production.
Our high-precision industrial cutting lasers can also cut most plastics, polyester, rubber, polycarbonate, acrylics, laminates and other materials with speeds of up to 20 inches per second.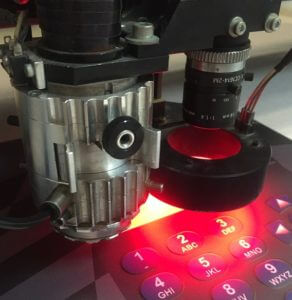 Advantages of Laser Cutting/Etching:
High Precision Cutting / Etching
Affordable Hourly Rates
Short Lead Times
Prototyping (prior to hard tooling)
Update design rapidly
Materials Perfect for Laser Cutting:
Materials Perfect for Laser Etching:
Video: Laser Etching on a Silicone Keypad
RSP's Laser Etching and Cutting Capabilities
RSP'S laser etching machines can be used for highly detailed back-lighting purposes and durability. Our engineers have experience etching variable layer thicknesses, coating types and colors to create consistent and accurate, durable legends and back-lighting for use on silicone and other materials in extreme environments and other conditions.
Using standard graphic software such as Adobe Illustrator and Auto-cad, RSP's laser etcher machines are programmed to remove layers of spray paint to exacting specifications and show sub-layers by removing dark layers (light blocks) to reveal the white or natural color of the silicone (the light pipe) beneath for backlighting purposes.
RSP's industrial lasers can laser-cut plastics, polyester, poly-carbonate, rubber, acrylics and other materials.
We handle custom laser projects that other shops cannot, and we have developed strategic alliances with several laser shops to offer the lowest-cost high-speed laser gantry laser cutting and precision engraving.
Contact RSP, Inc. at 414-546-4417 for fast, high-volume production of your specialized laser etching and cutting needs.