One of RSP's specialties is providing our clients with turnkey assemblies, and many times that involves incorporating printed circuit boards (PCBs) or printed circuit board assemblies (PCBAs) into our clients' products.
What is a PCB?
PCBs are thin, hard surfaces that incorporate printed electronic circuits. These circuit boards electronically connect different components and can be used in a wide variety of products and applications. PCBs can be single, double or multilayered.
Benefits of Turnkey PCB Assembly
Here are some benefits of using turnkey PCB assembly from RSP:
Streamlined Project Management: When you opt for printed circuit board turnkey assembly services from RSP, we take care of the entire assembly process, from component procurement to final testing, allowing you to focus on other crucial aspects of your product development.

Time and Cost Savings: With RSP's expertise in component sourcing, production planning and efficient assembly techniques, you can avoid the complexities and delays associated with managing multiple vendors. This approach helps reduce production lead times and ensures optimal cost efficiency.

Quality Assurance and Testing: RSP places a strong emphasis on quality assurance throughout the turnkey assembly process. With rigorous quality control measures and comprehensive testing procedures, RSP ensures that your printed circuit boards meet the highest standards of quality and reliability. This commitment to quality gives you peace of mind, knowing that your products will perform flawlessly in the market.

Single Point of Contact: When you choose RSP's turnkey assembly services, you benefit from having a single point of contact for all your assembly needs. RSP's dedicated team of experts manages every aspect of the assembly process. By providing regular updates and prompt resolution of any issues that may arise, we  minimize potential miscommunications or delays.
Overall, RSP's printed circuit board turnkey assembly services offer a comprehensive solution that ensures efficient project management, time and cost savings, top-notch quality, and a seamless customer experience.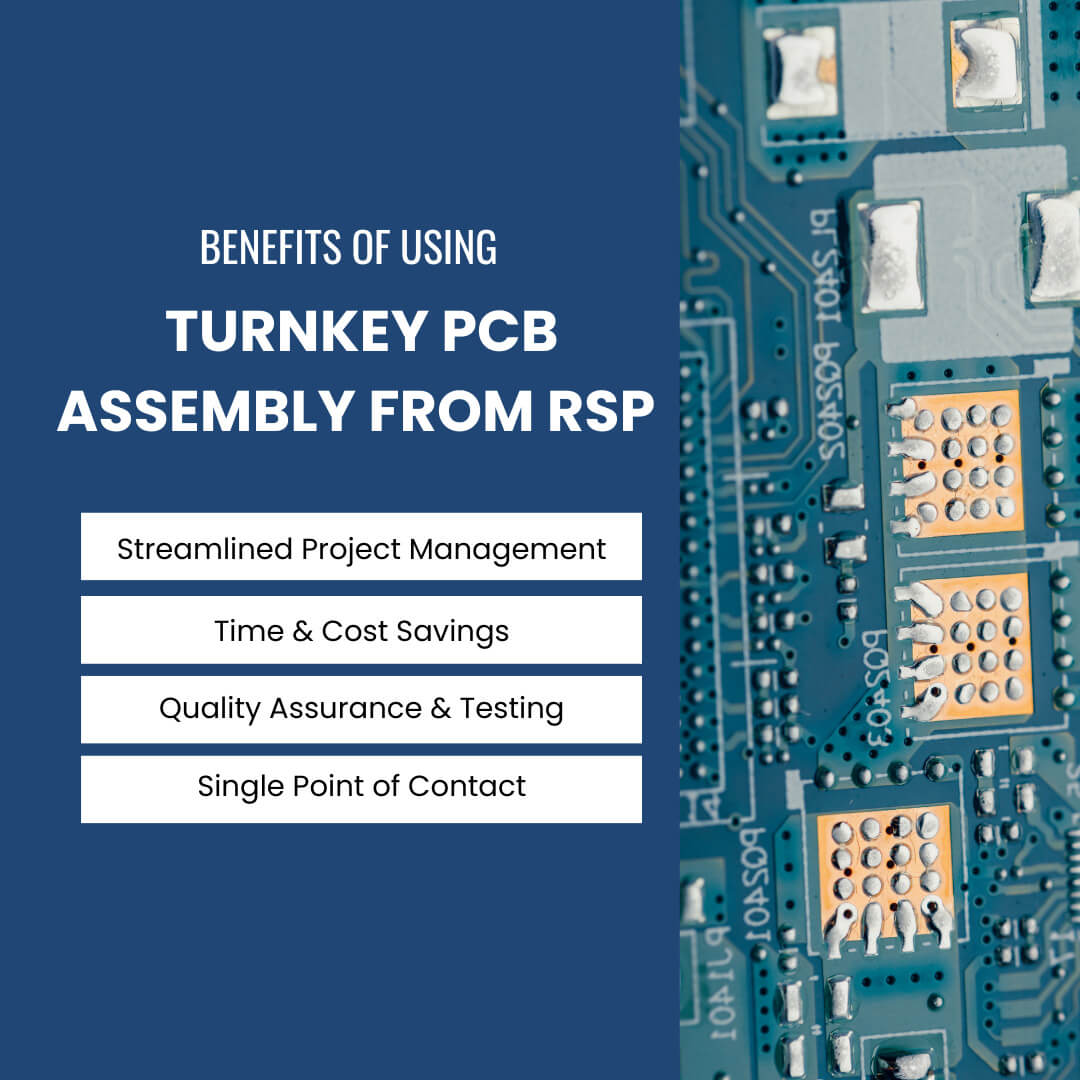 Differences Between PCB and PCBA
Once the intricate process of soldering and mounting of components is complete on the PCB, the board is transformed into a printed circuit board assembly (PCBA) or printed circuit assembly (PCA). This assembly can incorporate a diverse range of elements including resistors, capacitors, integrated circuits, connection ports and a multitude of other crucial components. Together, these components form the very essence of your electronic device.
Need Turnkey PCB Manufacturing or Turnkey PCB Assembly Services?
At RSP, our turnkey electronic services offer you the expertise of highly experienced engineering teams from both the US and China, ensuring your product journey from the initial idea to its full realization is smooth and successful. Whether you have high-volume production requirements or you're starting with smaller quantities, we are dedicated to assisting you every step of the way. For a comprehensive overview of our circuit board manufacturing services, we invite you to explore our dedicated Circuit Boards Capabilities page, where you can learn more about our commitment to being a world-class PCBA manufacturer. Ready to embark on your product's journey? Don't hesitate to reach out to one of our knowledgeable sales representatives today! They are waiting to help you get the process started.