Whether your facilities are at maximum capacity and you need to grow or you have a brilliant idea but no manufacturing, at some point people consider outsourcing their production. While you tackle the sales and marketing, a contract manufacturer (AKA "private label manufacturer") can produce, assemble and ship your product.

Choosing the perfect contract manufacturer (CM) can be a daunting task. To help you out, we have included a list of things you will need to consider when selecting a contract manufacturer.
1. Relevant Expertise & Technology
When beginning your search, the first thing you need to do is narrow your search to CMs with experience in your industry or with similar products. From there, narrow your search to a specific niche if needed.
A CM with a background in your industry might indicate expertise but it also means they might already have the necessary technology to develop your product. Regardless of their industry expertise, always ask if they have the technology you need. If they don't have the technology but are willing to work with you to acquire it, make sure you are completely comfortable with the terms and conditions they offer.
2. Track Record of Success
The proprietary nature of some products and services makes it difficult for a CM to share customer testimonials. However, it is still possible to learn about their track record. Here are some questions to ask:
What kind of success have you had producing product in the X industry?
How long have you been producing for X industry?
Do you have any customer testimonials you can share?
Do you have any customer references (names and numbers) willing to discuss their experience with you?

Ask their customer if they met or exceeded their expectations.

What kind of experience does your team, including engineers, designers and developers, have?
You might have to pay more for working with a CM with vast experience, a track record of success and high-quality production. However, more often than not, paying a little more upfront will save you a lot of money in the long run. You will be able to avoid reworks, modifications and other major headaches.
3. Intellectual Property Protection Policies and Procedures
Your intellectual property (ideas, concepts, processes and procedures) must be protected. They are what give you and your product a competitive advantage at this stage. Thus, it is important to do the following:
Be sure to sign a Non-Disclosure Agreement with your CM to provide legal protection if action is necessary.
Confirm the CM has Non-Disclosure and Assignment Agreements in place with employees to provide protection throughout the entire the company.
Verify that any overseas facilities and additional partnerships follow strict legal policies and confidentiality agreements.
4. Engineering and Product Development Teams
Having engineering and product development teams within your CM will be beneficial down the road. Any minor tweaks, revisions or other troubleshooting will depend on the team solving the issue. Having on-hand expertise reduces cost and time, especially if the CM you choose doesn't nickel-and-dime you for every little change.
Even if you have a product fully prototyped or have final engineering files and material specifications, almost always a design / manufacturing engineer and material engineer will need to get involved to make sure the project transitions smoothly into production. In addition, if you are looking to develop related or new products, having one supplier you can go to for product development will save a lot of time, money and headaches.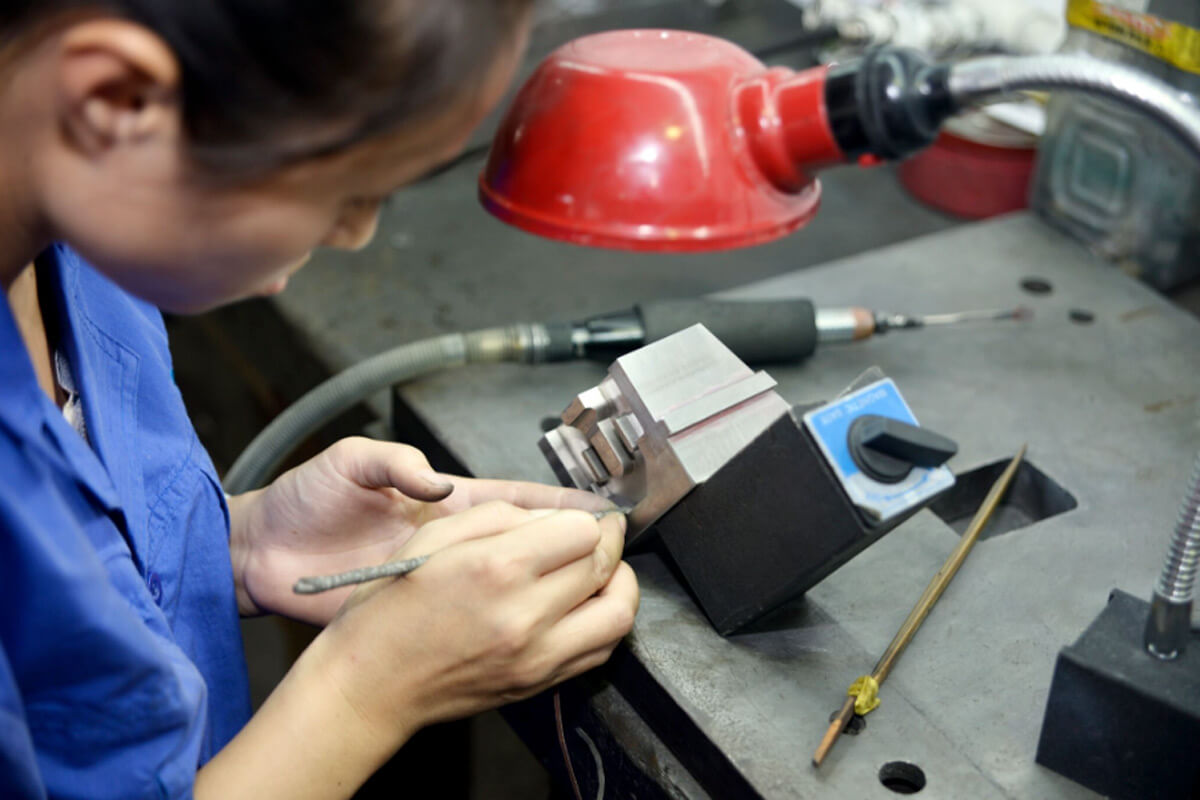 5. Certifications and Compliance Requirements
Ask the contract manufacturer for a list of their certifications; make sure they are certified and compliant for any processes or quality levels your product requires. This is especially important if you are developing food, medical or biotech products (USDA, FDA, ISO for example). On the other hand, if your product is a smartphone case, you might not need to select a manufacturer that deals with strict FDA and USDA certified products on a daily basis. You may find better value at a lower cost elsewhere.
6. Consider Freight Costs
Let's say you have a very large physical product you need at very low delivered price and you live in the United States. Unless you plan to sell it in Asia, you might not want the product manufactured in China due to high freight costs. However, if the product requires substantial tooling or intensive labor (i.e. furniture, computer charging carts and after-market automotive equipment) it may make sense to produce the product in cheap labor markets overseas, such as China where tooling costs are typically 30-40% lower and labor costs less than 50% of domestic rates. In other words, it's important to consider all costs and charges when creating a business plan for your product.
7. Volume Capacity Matches Your Volume Requirements
If you know you will need 1 million units per year and the CM you are looking at hasn't produced 1 million total units in a year, all customers combined, you will most likely run into problems down the road. These can include increased lead times, quality mishaps and under-delivery on orders.
On the flipside, if you only need 5,000 units per year, you might not want to select a CM who frequently deals with million-unit orders, as your orders could get lost in the shuffle or put on the backburner. In addition, these CMs might not be as agile or cost-effective when dealing with revisions and quick turnarounds.
If you are a startup or have a brand-new product it is important to make sure the CM you are working with can continue to scale up as your company or product line grows. You don't want to be jumping manufacturers every year or two when you don't have to.
All in all, find a contract manufacturer that has great experience in your volume requirements and can scale with your needs.
8. Additional Value-Added Capabilities
Save yourself money, time and headaches by selecting a contract manufacturer that can source, test, assemble, package and ship your product. This will allow for a seamless transition between prototyping, production and post-production stages. Plus, you will have more time to focus on sales, marketing and new product development.
9. Lead Times and Pricing
Your project can't go forward if the CM you are working with can't provide you products in time frames you need, or if they are too expensive. Be sure to ask what their average lead time/turnaround is. Overall, find a company that fits what you need. Make sure the CM can meet lead times and pricing without neglecting the quality you are searching for.
10. Customer Service and Transparency
You will be working hand-in-hand with your contract manufacturer, so find a company with great customer service, honesty, integrity and transparency. If something doesn't sit well with you or feel right in the first couple of interactions, just imagine how that might be exacerbated when your deadlines are tight and you have run into several unforeseen hiccups. Look for a company with a long-term value investing approach that aligns with your long-term goals and vision – it will go a long way towards mutual success!
11. Native Language Sales Office
Since you are working so closely with your contract manufacturer, find a company that speaks your native language, or speaks a language that you are very comfortable speaking. Slight misunderstandings early on can turn into big blunders down the road. Make sure the communication will be clear and effective. It's important not to take a communication risk when it can be avoided.
12. Insurance / Risk Mitigation Policies in Place
Make sure the CM you are working with takes asset protection seriously, especially if you are working in areas prone to natural disaster, political distress or other extreme circumstances. Be sure to discuss the following with your CM:
Facilities & Risk Assessment
Emergency Procedures
Insurance
Find What You Need
To reiterate, the goal is to find a company that matches your needs. And when it comes down to it, no amount of money or time is a substitute for responsibility, integrity and honesty in doing business, especially when dealing with your product.
Ready to Find the Right Product Partner? Request a Quote