3D printing, also known as additive manufacturing (AM), is a process that adds material to create an object. This is the opposite of CNC machining, which is subtractive manufacturing, as it removes material to create an object. Injection molding is neither additive or subtractive, since it simply takes existing material and "molds" it into a different shape.
RSP offers both 3D plastic printing and plastic injection molding services. While these were once considered competing technologies, now many RSP clients are using both 3D printed plastic and plastic injection molding during the design phase and sometimes even in production. Each method has unique advantages, and they can even be used together synergistically to optimize production.
Cost Analysis of 3D Printing vs. Injection Molding
Cost is the main driver for most clients choosing between 3D printing and injection molding. The chart below demonstrates a typical cost curve to determine a break-even point. While every project is different, a typical break-even is between 250 and 500 parts. This is the point at which the cost per unit is the same between each technology. With 3D printing, the per-unit cost changes very little as the material cost and machine time are the same for each unit. Because injection molding requires tooling design and molds, these up-front costs can be substantial. This means, if you allocate the tooling into the cost per unit, the initial parts appear very expensive, but as the volume increases, the price per unit drops below that for 3D printing.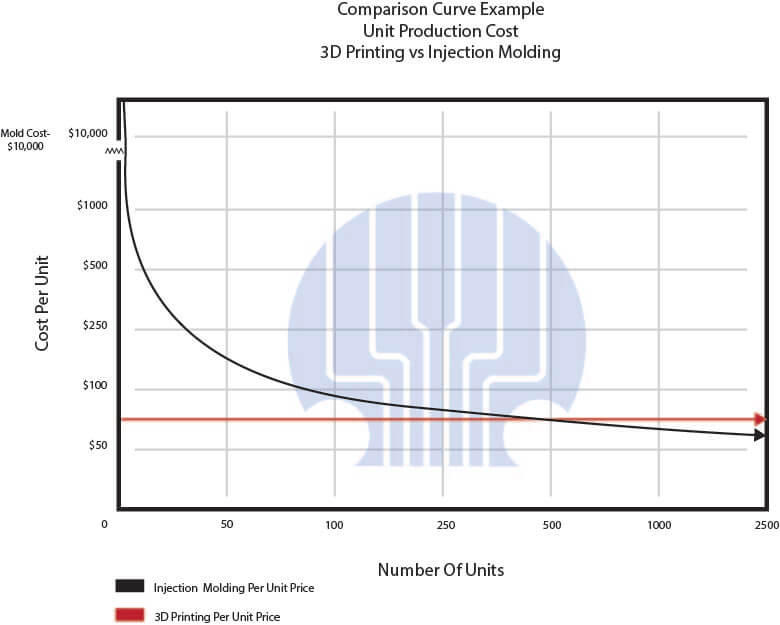 Other Determining Factors
Besides cost, there are other considerations when choosing between 3D printing and injection molding services for your plastic product manufacturing needs.
Projects Best Suited for 3D Printing
Quick turnaround times: days or weeks
Designs requiring frequent changes
Low-volume production: 100 parts or less (this varies based on the project)
Relatively small-sized components
Standard materials (there are limited materials available for 3D printing)
Projects Best Suited for Injection Molding
Longer turnaround times: 5–10 weeks for most molds
Stable part designs that don't require changes
Higher-volume production runs: 1,000 parts or more
Larger parts
UL listed components or assemblies: more variability in flammability, ignition and electrical properties
Which Is Stronger?
The mechanical properties, such as tensile strength and impact strength, of materials used in 3D printing will vary considerably more than when the same materials are used in conventional injection molding methods. However, materials are constantly improving and different types of 3D printing including FDM (fused deposition modeling) and SLA (stereolithography) can produce different results. Even the orientation of the part when it is printed affects the "strength."
Real-World Plastic Manufacturing Solution
Many clients come to RSP expecting to use 3D printing, only to find out that their project is best suited for injection molding. While the costs of 3D printing continue to decline, the technology is still best for lower-volume runs.
When you are deciding between the two production methods, RSP can give you the information you need to make the right decision for your product. Injection molding and 3D printing are complementary, and both may play a role in manufacturing your design.
Head on over to our Contract Plastic Injection Molding and 3D Printing pages to learn more about our plastic manufacturing solutions. Or contact RSP with any questions, and our client managers will be able to assist!