Company: Bevstir Innovations | Product: vSpin
Reinventing Wine Aeration with Magnet Technology
Getting Started: RSP and Bevstir
RSP was contacted by Bevstir Innovations to discuss manufacturing their newly patented wine aerating product, the vSpin.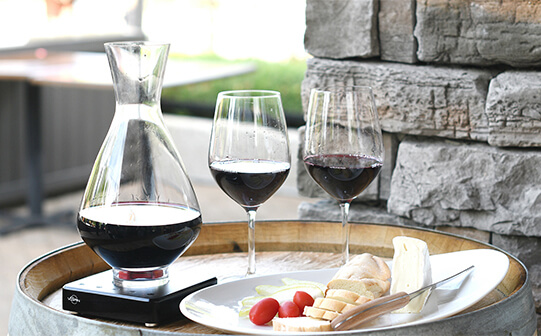 After decades in the restaurant industry, Bevstir knew they had a successful product concept and were ready to find a manufacturing partner that could turn their vision into reality. They had made a few very basic prototypes before contacting RSP to prove the concept. The next step was a complete update to give their new product a clean, professional look and intuitive user interface (UI) and function. Both the vSpin and Bevstir Innovations' previous product, the Bevstir protein shaker, utilize proprietary magnet technology. RSP's task was to help integrate the magnet technology into the vSpin while making sure the product was designed for beauty and function as well as cost-effective to manufacture.
RSP assigned the project to a dedicated project launch engineering team that specializes in design, materials, prototyping, and pre-production. The team utilized RSP's project launch questionnaire and worked closely with Bevstir during the design review process to understand their needs, objectives, and deliverable requirements.
This review and analysis gave RSP and Bevstir an agreed-upon path to ensure a successful outcome so that from the outset, all the important details were considered, such as price targets, testing requirements, time frames, material specs, packaging needs, and more.
This process enabled RSP to provide Bevstir with a finished product after only 8 months from project launch.
The vSpin recently won the German Design Council's 2018 German Design Award
! The German Design Council recognizes "companies that generate added brand value through design." RSP is proud to be a part of launching a sleek, innovative, high-quality wine aerating product that is being enjoyed in homes and fine dining restaurants around the world.
Choosing RSP as an Engineering and Design Partner
For over 50 years, RSP has honed and perfected our team model of development, working with hundreds of customers to take their products from concept to production. RSP has extensive experience working with and designing UI as well as designing and molding plastic and elastomeric products. Our industry experience includes agricultural, automotive, medical, and consumer products.
RSP's expertise across these diverse industries enabled our design and engineering team to understand Bevstir's needs and generate a design for a product that is not only elegant and functional, but also optimized for manufacturing. As a turnkey manufacturing partner, RSP is there for our clients every step of the way, from prototype to production. While Bevstir came to RSP with basic prototypes, our team can work with anything from a rough napkin sketch to a 3-D drawing and make our clients' innovative visions a reality.
Seamless Integration of US & China-Based Teams
RSP and Bevstir worked closely together during every step of development. To maximize efficiency and improve communication, RSP utilizes a team approach. A US-based project manager is assigned to each client to ensure projects stay on track and to liaise with our China-based teams. Our clients also have the advantage of direct access to our product development and engineering team in China. With this model, RSP offers clients nearly round-the-clock access and communication during every step of the process.
For the vSpin, Bevstir worked directly with our production and engineering teams in China to develop the product and plan out production for a quick turnaround. Our team helped to develop the mechanical design as well as the electrical design and layout of the vSpin.
Details in the Electronic Design Process
The RSP engineering team conducted many tests to perfect the electronics that give the product the ideal vortex spinning inside of the glass decanter. Our team also met the client's requirement not to power the vSpin with a lithium ion battery (to avoid potential fire hazards). Through the electronic design process, RSP was instead able to meet this requirement with a battery that would last for hours on a charge. Finally, RSP suggested and integrated capacitive touch "buttons," which sense the natural conductivity of the human finger to actuate the function and give the design a very sleek and modern look that is appropriate for vSpin's market.
How vSpin Works
Traditionally, diners who order a bottle of wine at a fine restaurant have two options: to let the wine "breathe" in a decanter for 20–30 minutes, or pour a glass and drink it right away, skipping the aeration process that wine needs to reach its optimal full flavor and taste profile. The vSpin is a wine decanting product that utilizes a three-magnet system to spin the wine and aerate it quickly, within 2–5 minutes. This allows wine to be efficiently aerated tableside without compromising flavor.
Moving Forward with Magnetic Technology
RSP will continue to work with Bevstir Innovations to produce more products based on the magnetic technology utilized in the vSpin as well as continuously improve the existing design. There are other exciting new products in the pipeline with Bevstir Innovations, and RSP looks forward to an ongoing relationship as a trusted manufacturing partner.
How Is RSP Unique?
RSP Inc. has the manufacturing and engineering experience to design innovative and award-winning products. Our rigorous design review process enables our engineers to address issues at the outset. Should challenges arise during the design and production process, we draw on our wide experience in a range of industries, materials, and markets to help our clients overcome them. As a leader in turnkey solutions, we are uniquely qualified to see the R&D process through and bring our clients' innovative products to market. We truly partner with our clients to make their dreams a reality.
If you have an idea of what you want to make, we can execute your plan from design to prototype to product launch. You Dream It, We Build It.